Tahoe Hot Air Balloon Weddings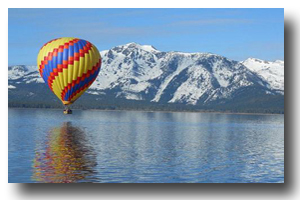 Up, up and away in my beautiful balloon! It was a big hit and a very popular song in the 1960's, but up, up and away in my beautiful balloon on your wedding day is now a wild and zany way to get married. Exchanging "I do's" while flying over Lake Tahoe in a hot air balloon may be an adventure wedding that's perhaps not intended for the timorous, but it certainly is a consideration for the venturesome couple that is looking for an electrifying way to marry.
Although it is without doubt an unconventional way to get married, Tahoe balloon weddings provide an ambiance of serenity that's unparalleled, a fantastic setting that's perfect for a unique and intimate ceremony. Observing the scenic panorama of Lake Tahoe and the surrounding mountain views of the Sierra Nevada Range as you float tranquilly through the air at an altitude of over 9,000 feet will present an experience unlike any other you've witnessed.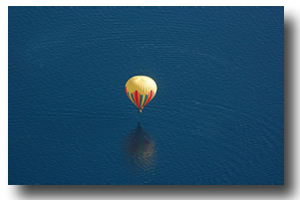 You're wedding day celebration will begin in the early morning hours, the most optimal time for balloon launching and when atmospheric conditions are best. Once the ideal cruising altitude has been reached, the ceremony will begin. Your vow and ring exchange will take place among the clouds, and your first kiss will take place in what will seem like Heaven.
After the ceremony is completed, your first dance will commence inflight as you drift in the sky across the beautiful countryside, flowing only where the wind sanctions. As newlyweds, the remainder of the one hour flight will be spent exploring the scenic views extending from horizon to horizon, including colossal mountainous peaks of the Sierras, boundless unspoiled landscape, world-renowned Emerald Bay, Fallen Leaf Lake, and scores of other adjacent surrounding lakes.
(Hot air balloon flights are seasonal from approximately May through October and are subject to cancellation due to weather. A private flight may not be available and other passengers may be aboard. Flight is also subject to cancellation if the minimum capacity of passengers is not attained.)
Call for current pricing.
Balloon excursion quotes will not include the balloon rental or balloon tickets that are necessary for the minister, photographer, bride, groom, or any attending guests. Quotes for the rental and tickets can be obtained directly from Lake Tahoe Balloons.
The combined Tahoe Balloon Wedding Packages include: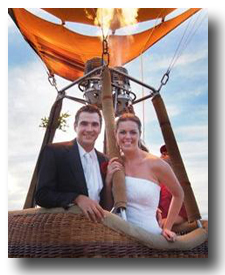 An approximate 1 Hour Scenic Air Balloon Flight
Boat Transport to the Launch Area
Minister
California Marriage License
Notary Fees
Consultation with Officiate
Traditional or Personalized Vows