Emerald Bay Weddings
This superb wedding location is quite popular among brides and grooms looking to marry in Lake Tahoe. The bluff of Emerald Bay offers a stunning aerial view of the varicolored bay and Fannett Island. Your wedding will take place on an overlook that towers an estimated 300 feet above the lake, an inspiring experience for those exchanging their vows at such a location.
The mountainous Sierras that encircle this magnificent body of water that has a shoreline circumference of 72 miles add immeasurably to this impressive setting and create a fantastic backdrop for your wedding photos. The exclusivity of the bluff offers a composed environment for the ceremony and formal photography afterwards.
Emerald Bay is located on the west side of the lake off of highway 89, about a thirty minute scenic drive from the heart of South Lake Tahoe. Weddings take place year-round on the overlook of this renowned wedding site. With its extraordinary beauty and romantic allure, it is understandably a most sought after venue.
It is important to note, though, that in addition to being a desirable place to marry, Emerald Bay is also an attraction to hikers and sightseers alike. Because of its touristic popularity, parking is extremely limited, most particularly during the summer months. Consequently, throughout the peak visiting season (May through October), if the bride and groom and all attending guests cannot arrive at the site in one vehicle, it is imperative that limousine or shuttle services be arranged so as to provide transportation to and from the ceremony site for you and your entire party.
Available services that we can arrange for you include a stretch limo with seating of up to 7 passengers or a shuttlebus with available capacity of up to 20 passengers (see Guest Shuttle Service below).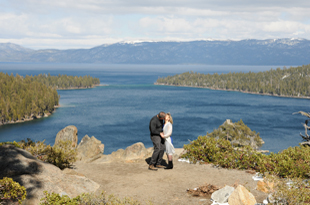 (Due to guidelines provided by California State Parks, we limit groups to a maximum of 20 people. Additionally, because it is a public area, setting up chairs or other objects is not allowed.)
Monday – Thursday
$795 (plus site permit fee)
Friday – Sunday
$845 (plus site permit fee)
Our Reflections Package at Emerald Bay includes:
Minister
Professional Photographer
Marriage License
Notary Fees
Consultation with Officiate
Traditional or Personalized Vows
All Photographic Images Plus Copyrights
Wedding March Music (upon request)
Permit Acquisition
Looking for More Simplicity?
Our Simple Tahoe Wedding package is also available for Emerald Bay!
Add to any package
Limousine Services $650 (2 hours)
Digital Videography $395
6 Rose Bridal Bouquet $125
Groom's Matching Boutonniere $20
3 Rose Bridesmaid Bouquet $65
Guest Shuttle Service for Emerald Bay Weddings
Since Emerald Bay is recognized as a National Natural Landmark and, consequently, draws a lot of visitors each year, vehicle parking can at times be extremely scarce, predominantly during the summer season. Therefore, arranged transportation is suggested (imperative May through October). To facilitate in providing a stress-free day, in addition to a 7 person capacity limo service made available to the bridal party, a larger capacity shuttle is also available for you and your guests, allowing your whole party to ride together aboard a private transport with available seating of up to 20 passengers.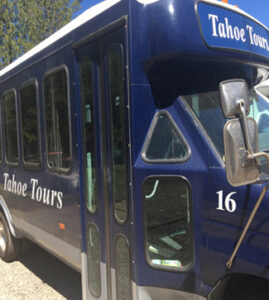 With the private shuttle, your entire party can be transported comfortably to the ceremony site at Emerald Bay and then shuttled to the reception facility or other locally selected destination afterwards. Cost is slightly more than a seven passenger stretch limo, but it is well worth having the additional passenger capacity that allows you and your guests the benefits of convenience for a once in a lifetime event.
Overlooking Emerald Bay and Fannette Island