Horse and Carriage Beach Wedding
For the bride and groom looking to make a grand entrance on their wedding day, a horse drawn carriage is one way to do it. Departing from the main section of town near the casino area, your carriage will carry you through the city like royalty for a romantic jaunt to your destination, a private beach conveniently located in South Lake Tahoe. Your wedding will take place at the water's edge, a remarkable setting where you and your guests will celebrate a very special day.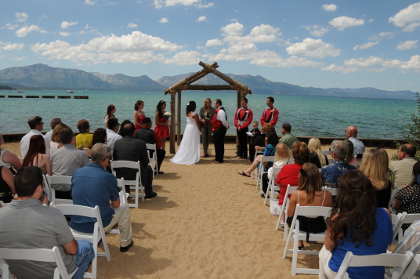 The wedding area is quite spacious and can accommodate large parties of up to 100 people. Seating is provided for all attending in addition to a decorative arbor for your ceremony. A staff member of this private resort will greet your guests as they arrive and offer assistance to help ensure a stress-free wedding. As your guests anticipate your horse and carriage arrival, they can relax to the pleasant background music provided and enjoy the scenic panorama.
The carriage can accommodate four to six people, so the bride and groom can choose to have elect members of their wedding party, parents, specified guests, or any combination thereof to accompany them on the leisurely stroll across town. The memorable ride will create a lasting impression and compliment your special day.
As an option (for an additional fee), your carriage can await the duration of your beach wedding and then bring you to your chosen reception venue or other selected destination (must be located within approximately 1/2 mile of the ceremony site). If you find it desirable to have a champagne toast along the way in celebration of your new marriage, feel free to bring your favorite sparkling wine.
(Horse and Carriage weddings are seasonal from approximately May through October)
Monday – Thursday
$845 (plus venue fees)*
Friday – Sunday
$945 (plus venue fees)*
Our Horse and Carriage Beach Wedding includes: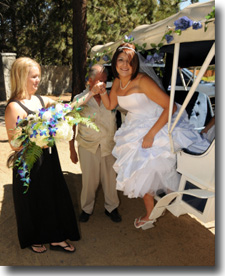 1 ½ Hours Private Beach Reservation
Venue Securement & Contract Acquisition
Horse and Carriage Ride to Ceremony Site
Minister
Professional Photographer
Marriage License
Notary Fees
Consultation with Officiate
Traditional or Personalized Vows
All Photographic Images Plus Copyrights
PA System for Music
Chairs for Attending Guests
Arbor
Staff Attendant
* (Venue fees include a 90 minute private beach reservation and H&C ride to ceremony site. Please note that venue management requires event liability insurance that's not included in the fees below, but can easily be obtained at minimal cost.)
Saturday
$2350 (10am, 12pm or 2pm)
$3350 (4pm or 6pm)
Friday & Sunday
$1850 (10am, 12pm or 2pm)
$3150 (4pm or 6pm)
Monday – Thursday
$1350 (10am, 12pm or 2pm)
$1850 (4pm or 6pm)
(Prices quoted for the horse and carriage are for passage to the ceremony site only. If additional transportation is desired thereafter, fees are applied at $150 per 1/2 hour.)

 Horse and Carriage Chapel Wedding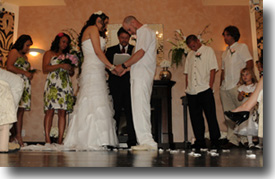 For the couple who loves the idea of making a grand entrance on their wedding day but prefers an indoor location, the horse drawn carriage can pull you and elect members of your wedding party to a conveniently located and charming chapel. Your carriage will depart from the state line area in South Lake Tahoe and take you for a jaunt through town to your destination.
This ceremony venue is ideal for small, intimate weddings. The chapel provides seating for up to 25 guests.
Monday – Thursday
$1395
Friday – Sunday
$1495
Our Horse and Carriage Chapel Venue includes:
1 ½ Hours Chapel Reservation
Horse and Carriage Ride to Ceremony Site*
Minister
Professional Photographer
Marriage License
Notary fees
Consultation with Officiate
Traditional or Personalized Vows
All Photographic Images Plus Copyrights
Wedding March Music (upon request)
Chairs for Attending Guests
* (Price quoted for the horse and carriage is for passage to the ceremony site only. If additional transportation is desired thereafter, fees are applied at $150 per 1/2 hour.)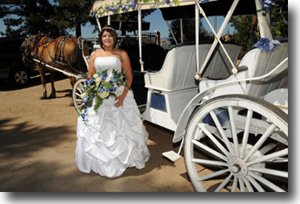 Add to any package
Limousine Services $350 (2 hours)
Limo Coach (seats up to 18) $545
Digital Videography $395
6 Rose Bridal Bouquet $125
Groom's Matching Boutonniere $20
3 Rose Bridesmaid Bouquet $65