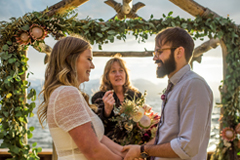 Of foremost importance to the bride and groom when in the beginning stages of planning their wedding is the selection of the wedding venue, especially if contemplating a destination wedding in an unacquainted place. If looking for an outdoor beach location and the anticipated place lands you in the vicinity of Northern California, there are two great wedding sites in Lake Tahoe that may be the ideal spot you're looking for. Both Lakeside Beach and Regan Beach are equally two favorites that offer a beachside setting with comparable yet juxtaposing amenities.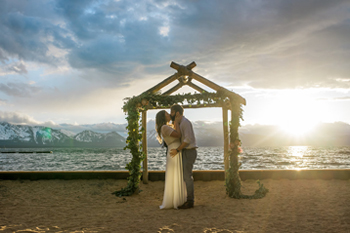 Lakeside Beach is a private spot that has always been a popular pick because of its brilliant setting, which is just a mere few steps away from the waterfront. You'll enjoy a toes-in-the-sand affair at the water's edge with the surrounding vividness of the magnificent Sierra Nevada Mountains looming in the background. In conjunction with a wedding service provider that can provide basic ceremonial services such as a minister and photographer, the site comes complete with chairs for guests, an arbor, a PA system to play your chosen music for the walk down the aisle, a staff attendant to assist with any needs of your wedding party or guests, and, of course, a stupendous backdrop. There's free parking too, and the easy access to the site is a result of its ideal location near the central portion of town in South Lake Tahoe.
With similarities and distinctions, Regan Beach is another popular spot located along the southern portion of the lake. As opposed to the ceremony taking place on the sand, this venue offers a spacious grassy knoll under the lush Jeffrey Pine trees that line the park that's adjacent to the sand and slightly elevated above the water. Like Lakeside Beach, the panorama is exquisite. The significant difference of the two venues, however, is that Regan Beach allows for tables to be erected for catered food or cake cutting and champagne toasting. Benefits of hosting the ceremony and the banquet at the same locale can amount to a pleasant savings.
Without hesitation, it can be said that these two venues are among the top selections when envisioning an outdoor ceremony in Lake Tahoe near the water's edge. Making the choice between Lakeside Beach and Regan Beach is simply a matter of which amenities are more preferential. In either case, these two exceptional wedding venues situated along the shoreline are certain to meet the elemental needs you require as well as emit desirable scenic beauty for a very special occasion.