Logan Shoals Ceremony Venue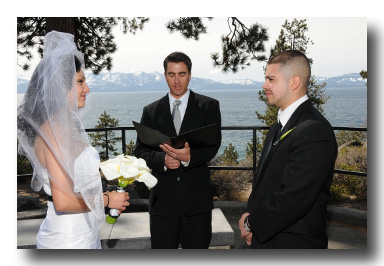 Similar to Emerald Bay in character and striking beauty, Logan Shoals Vista Point is one of our top wedding locations that provides for an intimate and romantic wedding. Situated on the east shore of Lake Tahoe, your vows and ring exchange will take place in a private nook several hundred feet up the side of a mountainous area that overlooks the deep-blue colored lake.
The nook on the overlook is ideal for a very small, informal ceremony for the bride and groom and a few guests. For a somewhat larger wedding party (up to a maximum of 20 people), this venue has a neighboring area that has comparable features to the nook as well as the same beautiful background. Photographic opportunities are abundant.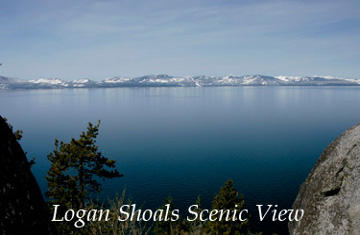 Except during heavy periods of snowfall in the wintertime, Logan Shoals is generally very easily accessed, another of the many reasons for its popularity. Located in Nevada off Highway 50 about twelve miles from the California and Nevada border, the vista is a recognized scenic stop that has paved walkways and free parking.
Due to its location on the east side of Lake Tahoe and being elevated over the water, Logan Shoals is particularly suited for sunset weddings. The reddish hue that occurs in the sky when an alpenglow sunset is present is an unbelievable sight, a sight that will further embellish the ambiance of the bride and groom's special day.
Since Logan Shoals resides in Nevada, a Nevada marriage license is necessary and must be obtained before your scheduled date.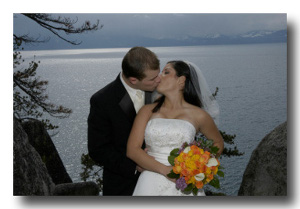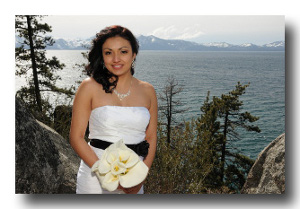 (There is a 20 maximum group limit at this site due to restrictions set forth by the USDA. Also, because the venue is open to the public, setting up chairs is not permitted.)
Monday – Thursday
$645 (site permit included)
Friday – Sunday
$695 (site permit included)
Our Reflections Package at Logan Shoals includes: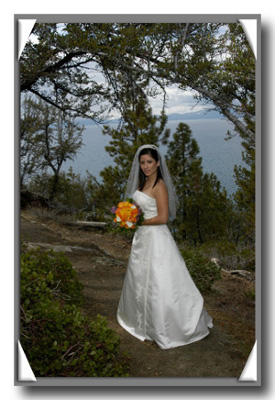 Minister
Professional Photographer
Consultation with Officiate
Traditional or Personalized Vows
All Photographic Images Plus Copyrights
Site Permit

Looking for More Simplicity?
Our Simple Tahoe Wedding package is also available for Logan Shoals!
Add to any package
Limousine Services $650 (2 hours)
Digital Videography $395
6 Rose Bridal Bouquet $125
Groom's Matching Boutonniere $20
3 Rose Bridesmaid Bouquet $65
Shuttle Services for You and Your Guests
Driving in the mountainous terrain of Lake Tahoe may be a bit unsettling for some people, so why not leave the driving to a pro. As part of our wedding services, we offer a private shuttle that's able to transport you and all your guests in comfort to and from the ceremony site. It's added insurance that your entire group will arrive together and on time for the most important day of your life. Acquiring shuttle services will certainly be an impressive addition to your special occasion, and your bridal party and guests are sure to have a fun time while traveling to the event.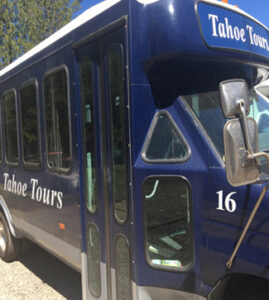 The shuttlebus is able to carry up to 20 passengers. The excursion to Logan Shoals is bound to be a relaxed and memorable one, and the cost is only marginally higher than what you would expect to pay for a seven passenger stretch limo.
Various photographs taken at Logan Shoals Vista Point