Zephyr Cove Beach
One of the prettiest beaches in Nevada that lies just a few miles east of the California border near the south shore of Lake Tahoe is Zephyr Cove, home of the famous paddle-wheel riverboat, the M.S. Dixie. The beautiful inlet that's disseminated with rocky formations surrounded by turquoise water with the encompassing Sierra Nevada Mountain Range in the background is a perfect place for celebrating your special day.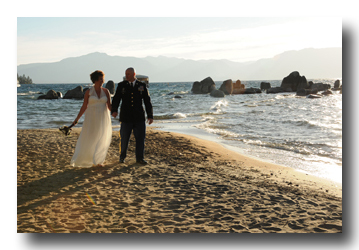 The sandy beach provides a toes-in-the-sand affair for brides and grooms who want to marry along the pristine 72 mile circumferential shoreline that emits endless views of dazzling landscape. The picturesque surroundings are a fantastic backdrop for your wedding ceremony photographs and the formal photography that follows.
If looking to lodge on the Nevada side of the border, the nearby Zephyr Cove Resort is just a short jaunt away from the ceremony location where your ring and vow exchange will take place. Established in the early 1900's, the cabins at the resort have been restored to retain their original architecture when built at the turn of the century. The resort offers a great alternative to customary South Lake Tahoe accommodations.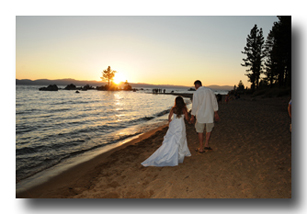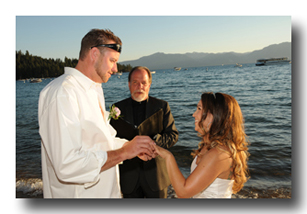 Geared toward small, intimate ceremonies, Zephyr Cove is one of the best beach venues for couples who want an informal and relaxed wedding along the prestigious shoreline of Lake Tahoe. A Nevada marriage license is required to be married at this location and must be attained prior to the event. There is an entry fee for car parking and it is very limited throughout the summer season, so we recommend employing limousine services (see Shuttlebus Service below).
(Because Zephyr Cove Beach resides within the Forest Service jurisdiction, group size is limited to 10 guests, including bride and groom. Additionally, since it is a public area, setting up chairs or other objects is not permitted.)
Monday – Thursday
$645 (site permit included)
Friday – Sunday
$695 (site permit included)
Our Reflections Package at Zephyr Cove includes: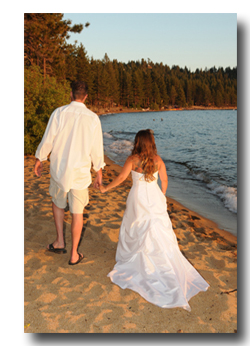 Minister
Professional Photographer
Consultation with Officiate
Traditional or Personalized Vows
All Photographic Images Plus Copyrights
Site Permit
Add to any package
Limousine Services $650 (2 hours)
Digital Videography $395
6 Rose Bridal Bouquet $125
Groom's Matching Boutonniere $20
3 Rose Bridesmaid Bouquet $65
Shuttlebus Service
Transportation to your wedding destination for your entire wedding party is an available option with your wedding reservation. Having limited existing parking during the summer season at Zephyr Cove Beach, it's comforting to know that you can now avoid the stress of self-transport and are able to travel in repose and grace in a refined seven passenger limo, which affords lounge styled seating, or aboard a higher capacity shuttlebus that can carry up to 20 people.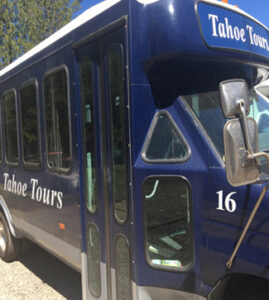 Limousine or shuttle services allow you and your guests to avoid paying parking fees and reassures that your entire party arrives together and on time for a very important event. An additional extravagance includes transportation to your locally chosen destination after the celebration. Enjoy touring lavishly in a social friendly environment with family and friends.