Lakeside Beach Weddings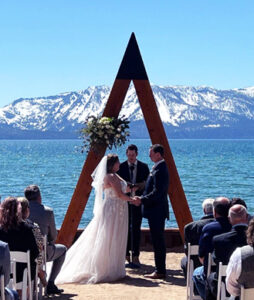 Located near the Nevada state line in California close to the central part of town in South Lake Tahoe, Lakeside beach is an impressive outdoor wedding site. Being adjacent to the shoreline, the ceremony will take place at the water's edge on the sand under the triangular wooden arbor where the view is an endless sight of beauty. The deep blue color of the water established in the foreground of the majestic Sierra Nevada Mountain Range that encompasses the lake is an ideal setting for exchanging your vows in addition to making a perfect background for the wedding photography.
The beach wedding venue is conveniently situated near Tahoe's casino center where there are plenty of first-rate restaurants equipped for hosting receptions as well as fabulous hotels and resorts that are readily available for an overnight stay. Too, its expedient positioning allows for easy travel and access, and the paved walkway leading to the ceremonial spot is advantageous for the elderly who may have difficulty walking in the sand. Another fine feature is the cool grassy section under shade trees where guests can mingle while waiting for the commencement of the ceremony. A nearby restroom facility at the neighboring beach is just one more favorable amenity this locality preserves.

This spacious site will seat up to 100 guests, and a staff attendant will assist with directives for guest parking and seating as well as help organize your wedding party if needed prior to your walk down the aisle. The attention you'll receive assures you of a smooth running event on a very special day.
(Lakeside Beach availability is seasonal from approximately May through October.)
Monday – Thursday
$895 (plus venue fees)*
Friday – Sunday
$995 (plus venue fees)*
Our Lakeside Beach Wedding includes: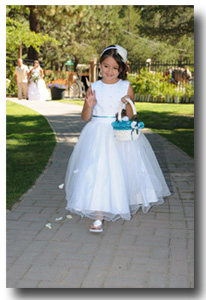 1 ½ Hours Private Beach Reservation
Venue Securement & Contract Acquisition
Minister
Professional Photographer
Marriage License
Notary Fees
Consultation with Officiate
Traditional or Personalized Vows
All Photographic Images Plus Copyrights
PA System for Music
Chairs for Guests
Arbor
Staff Attendant
* VENUE FEES
Monday – Thursday
$1700
Friday – Sunday
$3200
(Venue fees are for a 90 minute private beach reservation. Also, the site manager necessitates event liability insurance that's not included in venue fees, but can easily be attained at nominal cost.)
Add to any package
Limousine Services $650 (2 hours)
Digital Videography $395
6 Rose Bridal Bouquet $125
Groom's Matching Boutonniere $20
3 Rose Bridesmaid Bouquet $65