Heavenly Mountain Resort Ski Weddings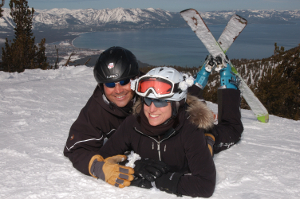 A fantastic and rather unique way to begin your life together is to get married in the midst of the Sierras at Heavenly Mountain Ski Resort. Our ski wedding location is situated off one of the resort's peaks where breathtaking panoramic views are the backdrop for your ceremony. Exchanging vows and rings at elevated heights in excess of 9,000 feet overlooking Lake Tahoe is quite impressive to brides and grooms marrying on the mountaintop.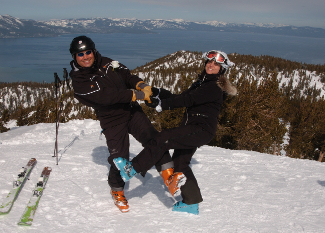 Your wedding day will begin with an approximate 15 minute gondola ride ascending up the mountainside to an altitude of over 9,000 feet. Spectacular views of the lake and all of Tahoe can be seen during the ascent. Once you arrive at the gondola's end, another ski lift will transport you further up the mountain. From there, you and your guests will ski over to a poised overlook on the mountain where your wedding will take place.
The photographic opportunities are immense at this ceremony site, and our photographer will capture the intimate moments of your wedding in addition to posed shots on your skis afterwards. At conclusion of your momentous occasion, you're free to ski the balance of the day at the resort, formally as husband and wife.
Monday – Thursday
$1225
Friday – Sunday
$1325
Ski package price does not include lift tickets. The bride and groom and any guests can purchase tickets on the day of the event at the Heavenly Village gondola base and will cost about $130 each (price may vary as it's subject to change). Small group size of up to 10 people is suggested.
Our Heavenly Mountain Ski Venue includes: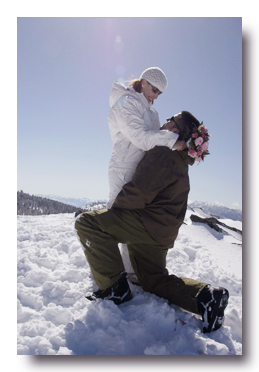 Minister
Professional Photographer
Ski Passes for the Bride and Groom
Marriage License
Notary Fees
Consultation with Officiate
Traditional or Personalized Vows
All Photographic Images Plus Copyrights
Add to any package
Limousine Services $650 (2 hours)
Digital Videography $395
6 Rose Bridal Bouquet $125
Groom's Matching Boutonniere $20
3 Rose Bridesmaid Bouquet $65