Sleigh Ride Ceremony Venue
Winter is a perfect season to marry in Lake Tahoe and there's no better way to do it then to take a one horse open sleigh ride across a meadow blanketed with snow to a sublime outdoor location for a romantic, brilliant white wedding. It is a fun and most memorable way to become husband and wife and start your new beginnings together.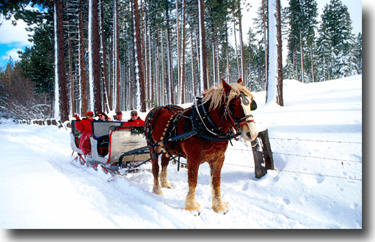 The sleigh ride escapade begins in the state line area of South Lake Tahoe near the casinos. Available sleighs vary in size to accommodate the number of guests that will accompany you on your journey. Depending on the size of your party, you'll board a sleigh that will be pulled by one or a team of beautiful horses. You'll glide across the snowy meadow to a predetermined wedding location situated in the middle of a tranquil and scenic setting consisting of snow frosted trees, the majestic Sierra Nevada Mountain Range, and the nearby pristine water of Lake Tahoe.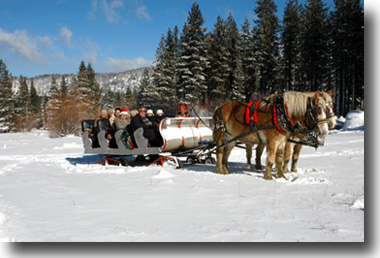 Our photographer will capture all the cherished moments of your wedding day as you float along the snow-covered countryside and take the walk down the whitened lane of matrimony. The first kiss as husband wife will also be captured at the thrilling moment of pronouncement. Formal photography of the newlyweds and their guests will ensue directly after the ceremony. The impressive sights of the surroundings will provide unlimited photo opportunities.
The sleigh ride venue is ideal for small, intimate ceremonies. The exquisite landscape and the serene environment will unquestionably bestow an unforgettable memory of your peerless white winter wedding in Tahoe.
(Sleigh ride weddings are seasonal and the approximate dates of operation are from December through March. Ride is also contingent upon sufficient snow level and is subject to occasional closure.)
Monday – Thursday
$795
Friday – Sunday
$895
Sleigh ride packages do not include sleigh rental, which is about $200 for one hour (may vary depending on sleigh size rented).  Additional riding tickets for any attending guests can be purchased on the day of the event and will cost approximately $50 each (price may vary as it's subject to change). Suggested group size is up to 10 people.
Our Sleigh Ride Wedding Venue includes: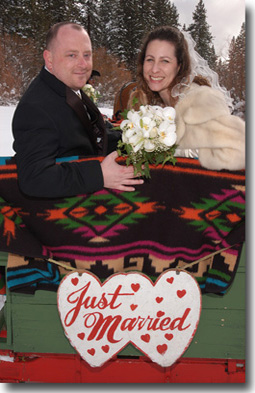 Minister
Professional Photographer
Marriage License
Notary Fees
Consultation with Officiate
Traditional or Personalized Vows
All Photographic Images Plus Copyrights
Add to any package
Limousine Services $650 (2 hours)
Digital Videography $395
6 Rose Bridal Bouquet $125
Groom's Matching Boutonniere $20
3 Rose Bridesmaid Bouquet $65