Popular Lake Tahoe Wedding Locations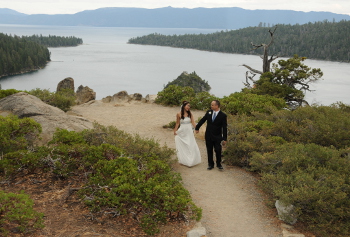 Because of the natural beauty of Lake Tahoe and its diverse settings, selecting an ideal wedding location for your ceremony presents a lot of choices. To help you with selecting the perfect spot for your special day, we created a list of a few popular wedding locations. Of course, you can always choose to have your ceremony at any of our other wedding venues we have listed if you prefer because all of our ceremony sites are quite exceptional with each having a beauty of its own. It's all up to you…it's your special day!
In keeping it simple for you and based on their popularity as determined by brides and grooms of the past, here are some top choices of beach and bluff settings.
Tahoe's Best Beach Sites
Lakeside Beach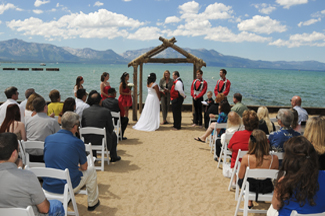 A perfect spot for a toes-in-the-sand affair and one of Tahoe's best wedding sites is Lakeside Beach. As the name implies, your ceremony will take place on the waterfront, presenting a spectacular backdrop for your once in a lifetime event. The tri-colored lake surrounded by the Sierra Nevada Mountain Range bestows one of the most striking views in Tahoe, allowing your walk down the aisle to be one of extraordinary caliber.
Centrally located in the heart of town resting on the edge of Nevada in California, Lakeside Beach is a private resort that offers exclusive use for you and your guests. This tranquil and captivating setting consists of a spacious area that's very suitable for large parties of formal or informal attire.
Read more about Lakeside Beach
Regan Beach
One decidedly favored locale found along the southern shore of Lake Tahoe offering plenty of amenities for the walk down the aisle is Regan Beach. This appealing ceremony venue is preferred not only because of its beautiful setting and convenient access, but also because it features varied options of where your ceremony can take place.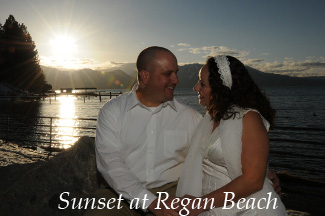 One section of this prime environment that's picture-perfect for weddings is on the grassy knoll under the pine trees, ideal for a summer event in the shade. It is slightly elevated above the shoreline, offering a birds-eye view of the fantastic backdrop that consists of the tricolored lake and grand Sierras, an impeccable scene for the nuptial celebration and photographic session afterwards. This portion of Regan Beach can be reserved for private use and is an excellent spot for large wedding parties.
Near the grassy knoll area just a short jaunt away is the shoreline of Lake Tahoe. Great for small gatherings with intimate appeal, this alternate lakeside beach setting is the ideal place for the bride and groom who want a toes-in-the-sand celebration at the water's edge.
Read more about our Regan Beach venue.
Beachfront
If wanting a very simple and economical wedding while preserving the rich attributes of a more costly matrimonial affair, celebrating your special occasion on the Beachfront is a great pick. Standing at the water's edge amidst the surrounding mountainous Sierras enjoying the beguiling open-air characteristics Lake Tahoe has to offer is an expose of what you and your future spouse can experience for your event of a lifetime. Exchanging vows and rings lakeside with an amazing view is certain to provide amazing memories.
Since the beachfront is open to the community, small groups are highly fitting. This locality is available throughout the year, and the site's convenient location allows for easy travel and access, even during the heart of winter when snowfall prevails.
Read more about the Beachfront
The Best on the Bluff
Emerald Bay
Celebrating your special day on the bluff of Emerald Bay will be a most exhilarating experience and one that will be remembered forever. Brides and grooms are awed at first sight of the panoramic view of Lake Tahoe with the majestic Sierra Nevada Mountain Range surrounding the alpine lake.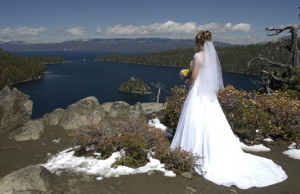 Couples from around the globe come to Lake Tahoe aspiring to marry, and many of them find themselves exchanging their vows while towering three hundred feet above the bay. The photo opportunity provided is unsurpassed.
Emerald Bay has been an awesome experience for many couples, and this venue is one of the most popular wedding locations in Lake Tahoe. It is especially favored for its intimate setting, geared mainly for small groups.
Read more about our Emerald Bay weddings and what they include!
Logan Shoals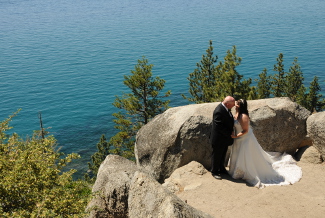 Very similar to Emerald Bay, Logan Shoals is another popular wedding site that is significantly elevated above the water, providing striking aerial views of the lake. It is an appreciably likeable environment for engaged couples to exchange their vows and be pronounced husband and wife. The sheltered mountainside nook produces a very private setting.
Logan Shoals is especially suited for sunset weddings due to being situated on the east side of the lake. When conditions are right, the prominent reddish hue of an alpenglow sunset is an amazing site, and one that will be long remembered. As one of our few Nevada wedding locations offered, Logan Shoals is a romantic and intimate venue that's pleasingly apposite for small groups commemorating a very special occasion.
Read more about Logan Shoals Vista Point.