Regan Beach Weddings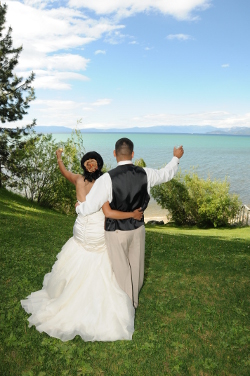 Of the many desirable outdoor wedding locations along the southern shore of Lake Tahoe, Regan Beach is among best. With a number of preferred assets, one of the more prominent of this beautiful location is the exceptionally spacious event site that consists of a grassy knoll surrounded by pine trees that provide plenty of shade for a cool midsummer wedding. The area is slightly elevated above the nearby adjacent shoreline, permitting for a panoramic view of Lake Tahoe. The outlook is a perfect backdrop for the photographic session during the ceremony and for the formal poses of the bride and groom afterwards. The verdant, park-like setting can be reserved with acquisition of a site permit, allowing private space for you and your guests.
For your convenience, we offer an all-inclusive package that consists of reserving your specific date and time with the appropriate city official and acquiring the necessary permit for park use. Reserving the area is necessary for large parties if you're planning to have your wedding during the summer months. A reservation guarantees your exclusive use of the area for a two hour period, and up to 100 guests can be accommodated. Securing a permit also allows for seating to be arranged for your guests (at additional cost) and the erecting of decorative items, such as an arch or floral arrangements.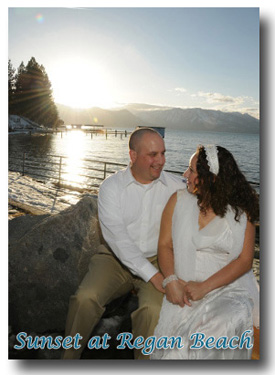 While enjoying exclusive use on the grassy knoll via a procured permit, further appreciating benefits of hosting the formality at Regan Beach include the option of assembling other ornamental objects, like a baroque table for cake cutting or champagne toasting, if planning to celebrate after the ceremony, which will present some great photo opportunities. You can even host the banquet at this versatile location, if you prefer, by setting up banquet tables and having catered food brought to the site.
Beachside Ceremony on the Sand
Small parties (groups of ten people or less) that would like to maintain a low-cost Tahoe wedding may want to consider a lighthearted toes-in the-sand affair and host the ritual on the nearby beach at the water's edge. While this area would not be a private setting, we do offer a reduced rate. Keep in mind, though, that the beach section is intended for a casual, unadorned ceremony, and that putting up chairs or decorative items is not allowed. Suggested times for a lakeside ceremony are mornings or late afternoon if wishing to avoid the potential numerous beach goers, most particularly on weekends during the summer months.

Whether celebrating on the grassy knoll or barefoot in the sand, Regan Beach is an advantageous pick. The venue is optimally located and offers plenty of free parking. With its easy access and close proximity to town, as the summer season comes to a close, this appealing locale continues to remain top choice throughout the winter when the snow begins to fall.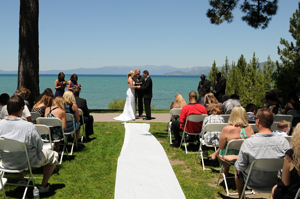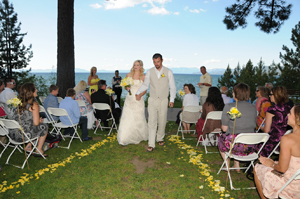 As an excellent selection for celebrating a momentous event, Regan Beach Park is conveniently available for year-round weddings. The outdoor setting is suitable for casual or formal attire and quite fitting for either small or large parties.
Monday – Thursday*
$1695
Friday – Sunday*
$1795
* (Reduced rate available for small parties of up to ten. Reduced rate available for larger parties during off-peak months.)
Our Reflections Package at Regan Beach includes: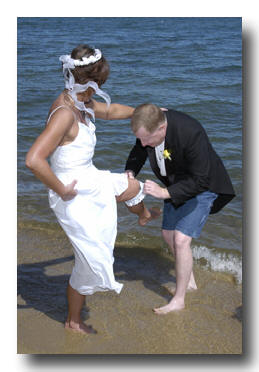 2 Hr Park Reservation (with paid site permit)
Venue Securement & Contract Acquisition
Minister
Professional Photographer
Marriage License
Notary Fees
Consultation with Officiate
Traditional or Personalized Vows
All Photographic Images Plus Copyrights
Wedding March Music (upon request)
Add to any package
Limousine Services $650 (2 hours)
Digital Videography $395
6 Rose Bridal Bouquet $125
Groom's Matching Boutonniere $20
3 Rose Bridesmaid Bouquet $65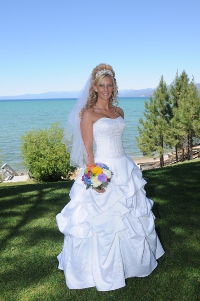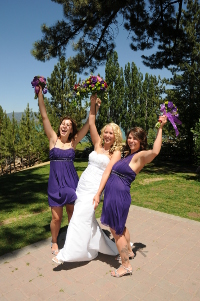 Scenic Views at Regan Beach