Beachfront Ceremony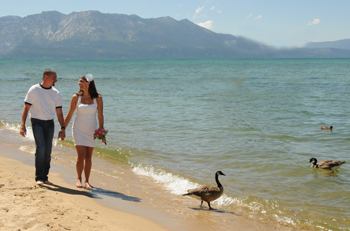 For the bride and groom looking to keep their Lake Tahoe wedding simple and affordable, yet desiring to maintain a quality locale to host their special occasion, our beachfront venue is ideal for an insouciant toes-in-the-sand matrimonial affair. This attractive lakeside setting that's available throughout the changing Tahoe seasons affords beautiful views of the surrounding Sierra Nevada Mountains and the multicolored water of Lake Tahoe.
In addition to these agreeable and sought after features, another illustrious asset this lakefront location possesses is its ease of year-round accessibility. Centrally located on the south shore near a plethora of local accommodations, gaining entrance to the ceremony site on your special day is typically only a short jaunt away, which is an exceptional convenience for you and your guests if planning a wintertime wedding when the possibility of snow could present uncertainty of road condition drivability.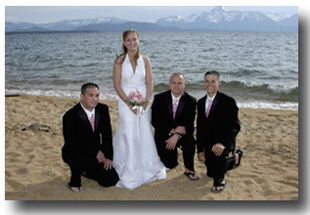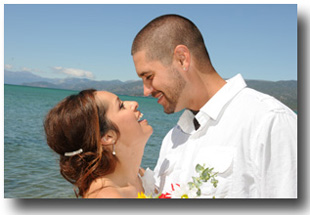 Because this beachside venue is not a private setting, it is intended specifically for a small, informal ceremony, with group size limited to ten or fewer people during the summer months. Additionally, chairs or other decorative items are not permitted. To avoid everyday visitors to the area, suggested times for your water's edge beach wedding are in the morning or late afternoon, expressly during the peak of the summer season.
For a no frills Lake Tahoe wedding where simplicity and affordability are a priority, yet wishing to preserve an eminent outdoor ceremonial milieu with enjoyable traits, this year-round beachfront spot along the shoreline is a perfect choice. Relaxed attire or formal dress are both completely suitable.

(Total group size during the summer is limited to a maximum of 10 people. Additionally, putting up chairs or decorations is not permitted.)
Monday – Thursday
$645
Friday – Sunday
$695
Our Reflections Package on the Beachfront includes: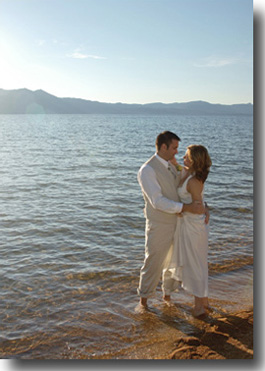 Minister
Professional Photographer
Marriage License
Notary Fees
Consultation with Officiate
Traditional or Personalized Vows
All Photographic Images Plus Copyrights
Wedding March Music (upon request)
Looking for More Simplicity?
Our Simple Tahoe Wedding package is also available on the Beachfront!
Add to any package
Limousine Services $650 (2 hours)
Digital Videography $395
6 Rose Bridal Bouquet $125
Groom's Matching Boutonniere $20
3 Rose Bridesmaid Bouquet $65