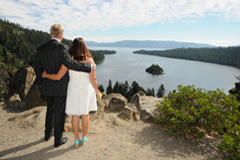 Known for its natural beauty and grandeur, Lake Tahoe is a focal point for destination weddings among brides and grooms around the world. The diverse topography surrounding the extensive shoreline provides scores of extraordinarily scenic wedding sites from which to choose, and the abundance of engaging activities Tahoe has to offer newlyweds after unifying their lives together contributes further to the immense allure of this enchanting destination wedding venue.
Tucked away in a mountainous region that borders two states, California and Nevada, and harbors the largest alpine lake in North America, Lake Tahoe is an enjoyable place that will captivate you on your wedding day. This pristine body of water rests at an altitude of over 6,000 feet and embodies 72 miles of shoreline, comprising some of the most beautiful beaches and wedding sites in the world.
Emerald Bay Falls is a very popular touristic place on the west shore of Lake Tahoe and is a top choice wedding venue for those aspiring marriage. The overlook of this well-known utopia sits 300 feet over the bay, exhibiting a picturesque panoramic lake view. The beach at Sand Harbor, Glen Alpine Falls, and Logan Shoals are only but a few of the other prestigious outdoor wedding locations Tahoe has to offer, each consisting of its own characteristics of beauty.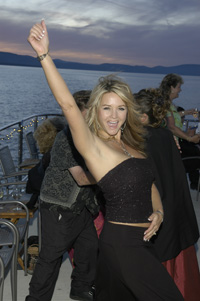 After "tying the knot," you'll be confronted with a myriad of ways to celebrate the beginning of your new lives together. From lavish hotels with glittering honeymoon suites to the romantic atmospheres of the finest restaurants, there'll never be a dull moment. Boating, sightseeing, sunbathing, parasailing, shopping, casino gaming, and jet skiing are just a few of the activities at your fingertips. Another attraction that's a big hit in Tahoe is a cruise aboard the M.S. Dixie, the giant paddle wheeler that sets sail across the lake throughout the year.
It's all there for the marriage aspirants who come to Lake Tahoe for the wedding of their dreams. Exchanging vows encompassed by exotic landscape and the ensuing endless excitement for newlyweds is what makes Tahoe a destination wedding favorite of the countless number of couples that come here. The culmination of your wedding and honeymoon in Lake Tahoe will be an impressive memory, one you will always revere and share during those intimate moments you spend together throughout the enthralling years of your marriage.