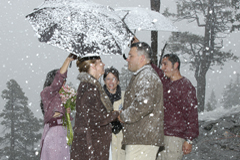 In late November as winter begins to descend upon Lake Tahoe and the snow begins to fall, it is typically a clear sign that the busy summer wedding season along the south shore is drawing near its end. Late November through February are generally much quieter months in regard to the number of brides and grooms looking to marry in the Tahoe area, but that doesn't mean that there still aren't plenty of couples gearing up to make that trip to Tahoe to have a wintery wedding.
Despite the colder temperatures, Tahoe is still a destination wedding hotspot because the winter season has an ambiance quite different than that of the summer months. The white, snow-capped mountains bring forth a romantic atmosphere more so than the summer season, and the surrounding frosted trees enhance the natural beauty that is already present.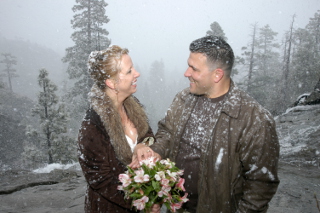 There is one important thing to keep in mind, though, if a winter wedding is in your plans, most particularly if you're planning a large wedding with a very large guest count. That one important thing is to have an alternate plan. In other words, assimilate a plan that allows you and your guests a place of refuge in case weather conditions become so severe that you have to move the wedding indoors. Equally important, make sure that the place of refuge will accommodate the amount of guests that will be attending the ceremony as many facilities – mainly the smaller wedding chapels – have limited space.
I might add that road conditions must be another consideration during the winter season, especially if you are planning to drive into the South Lake Tahoe area on the same day that your wedding takes place. You certainly don't want to be late for your own wedding should hazardous road conditions exist or due to a closed summit pass.
So, if you're looking to get married in the midst of winter, despite the few potential impediments, don't count out Lake Tahoe. Outdoor ceremonies in the frosty wilderness are still a desirable concept for many marriage potentials, particularly if they're planning an informal wedding because bundling up warm and toasty is a viable option, an option that is quite often elected.
Just as an afterthought, if marrying in the winter elements is a little too daring, the south shore has plenty of indoor chapels available, allowing you the security of a warm, indoor ceremony. With this provided opportunity, you can be assured of avoiding the whimsical weather that frequents this magnificent region and enjoy a contented, unimpeded winter wedding in Tahoe.