There are a variety of resourceful ways to provide alcoholic beverages to the guests at your wedding reception, some of which can save you a bundle of money. Choosing which way to do it primarily depends upon your preference, but oftentimes one's preference is dictated by the wedding budget. Nonetheless, whether cost concerns influence the final decision or not, you can maintain full bar service at a price you pick without compromise of benefits to your wedding invitees by utilizing the appropriate method that suits you best.
Open Bar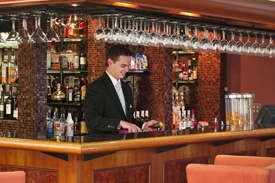 An open bar is one in which your guests are free to order any type of drink they want and as many as they can handle and you will cover all costs at the end of the night. You'll certainly impress your guests with an open bar and they are sure to have a lot of fun as the night progresses, but as you can probably imagine, the bar tab can mount rapidly, especially if you have many in attendance at the reception. However, there are several ways to curb the expense of an open bar.
Open Bar Variations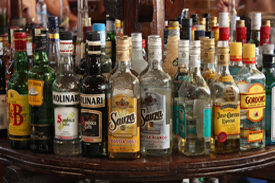 One way to reduce costs of an open bar is to offer it for a set period of time, such as until the end of dinner or pending the end of the scheduled events like when the garter toss completes or the money dance ends. Too, you can eliminate paying for labeled or premium alcohol used in mixed drinks and limit it to house brands only. Or, as an alternative, you can offer an open bar of beer and wine only, allowing guests to pay for the "hard" liquor or mixed drinks.
Partially Hosted Bar
With a partially hosted bar, you can specify a dollar amount that fits within your budget, and when the limit you set is reached, it becomes a cash bar and everyone begins paying for their own drinks. To stretch your dollars even further, you can employ any variations of the open bar methods to this approach. For example, limit hard liquor choices to house brands only or constrain availability to just beer and wine. This is a surefire way to extend your budget.
Cash Bar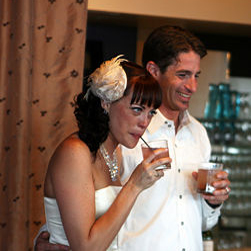 The most economical way for the bride and groom to provide alcoholic beverages at their wedding is the cash bar option. In essence, your guests will pay for their own cocktails. This is not to say you can't offer them a signature drink or place a complimentary bottle of wine on each table at the reception. This method of paying for whatever drinks are ordered not only keeps the reception costs much lower, but it also keeps the night from getting too wild and crazy that sometimes occurs with an open bar.
May the Spirits be with You
There can be considerable money differences in selecting to have an open bar, partially hosted bar, or cash bar, and the choice couples make is frequently dependent upon the wedding budget. However, whichever approach is decided upon, it will not diminish what is offered to your guests nor lesson the quality of service provided as these alternatives are all conventional ways in delivering alcoholic spirits at the wedding reception. It is your wedding day and your finances, so choose what is fitting and go with it. After all, it is likely your guests will be indifferent to how drinks are served, placing more focus on simply being in attendance with you on a very special day in your life.
Additional Money Saving Tips and Ideas
Saving money where you can is prudent when planning your wedding. Visit the Tahoe Blog where you can gain insightful ways to cut costs and gather helpful tips to facilitate the wedding planning process.