One of the most desirable outdoor wedding locations in Lake Tahoe is the highly renowned bluff of Emerald Bay. Brides and grooms both near and far make the journey to this alluring wonderland perched high above the sparkling panorama that's outlined with the splendor of the Sierra Nevada Mountain Range to exchange their vows and wedding rings.
Situated at an altitude of 6,319 feet along the west shore of Lake Tahoe north of Camp Richardson, Emerald Bay ceremonies are conducted on the edge of the bluff that towers approximately 300 feet over the water. A narrow trail brings you to an impasse that provides seclusion for a private and intimate wedding. The backdrop creates an incredible ambiance that will leave a lasting impression among you and your guests in addition to providing outstanding photographic images for your wedding album.
Simplicity Adds to the Fun of a Ceremony at Emerald Bay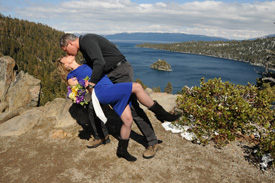 Features other than beauty contributing to the popularity of weddings atop the bluff include simplicity of securing the location and its low cost to do so. Though it does require a permit to conduct a ceremony at the predesignated area, many ministers and wedding planning services in the Tahoe area acquire their own permit from the forestry service, which allows them to legally operate and perform weddings at Emerald Bay. This makes use of the area an effortless process for the couple. In addition, most planners factor the permit cost – which is typically minimal – into their wedding package price, resulting in an all-inclusive arrangement. Therefore, no further actions are required of the marriage potentials.
A possible disadvantage to an Emerald Bay wedding may occur if you plan on getting married in the wintertime. Though the location is available year-round, excessive snowfall may cause a delay due to road closure. Highway 89 North is the only access to our hideaway on the west shore, and avalanches along this route, at times, become a concern. This happens infrequently, but can cause an inconvenience when Mother Nature doesn't cooperate with your plans.
Incontestably, Emerald Bay is a most beloved site among couples who wish to marry in Lake Tahoe. It has always been a favorite in the past and continues in its popularity, mainly due to its appeal and attainment simplicity. While Lake Tahoe is host to many beautiful wedding venues, the bluff over the bay is largely among the prominent.