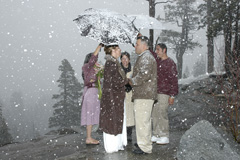 When planning a Tahoe wedding outdoors in the winter season, brides and grooms oftentimes are unsure of what to expect on their wedding day due to the notorious unpredictability of inclement weather that occurs in the Lake Tahoe area. While a large number of weddings take place in summer, Tahoe remains a popular destination wedding venue throughout the year, including the brisk days of winter, and if you come prepared, you can expect your wedding day to unfurl as planned, with perhaps, on occasion, a minor twist.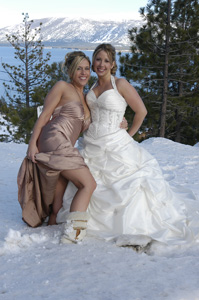 The severest of weather in Lake Tahoe typically occurs in January and February, but that is not to say that heavy snow storms don't befall the basin in other months of the year, including those of summertime. To be sure, you can expect torrential storms at any given time, but the preponderance of snow storms usually arise through the months of November to March, with some years having an extended winter season lasting from October through April.
Naturally, the safest plan to avoid the zesty winter cold on your special occasion is to plan an indoor wedding in one of the numerous chapels that are available on both the north and south shore. However, there is nothing more romantic and serene than having an open air wedding amidst the frosted trees and snow laden mountains that surround the beautiful water of Lake Tahoe.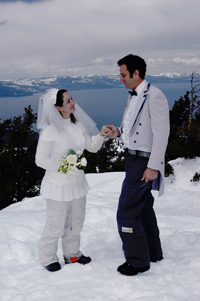 The harshest of storms will close the mountain passes that access Tahoe, but a majority of the time they remain passable, if prepared. It's recommended to always carry chains in your vehicle regardless of the time of year. Automobiles and SUV's equipped with four wheel drive coupled with snow studded tires can endure almost any type of unexpected road conditions.
If you've planned an informal wedding, ski jackets and parkas can shield you from wind and low temperatures, making the weather conditions a nonfactor in most cases. Too, large golf umbrellas work wonders if the snow is heavy and wet.
When weather is so severe that it becomes near impossible to host your celebration outdoors, no need to panic because nearby indoor chapels are almost always available, and at a nominal price. If a chapel is required, your wedding can still proceed as scheduled with only a slight change in venue.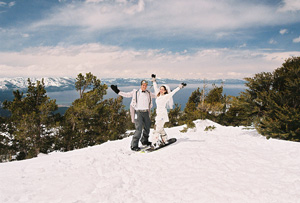 Planning a Tahoe wedding during the winter season can, at times, present a few obstacles, but the bliss of an outdoor, wintery-white ceremony certainly can outweigh any disadvantages. Being prepared while travelling and having a solid backup plan, such as tentatively securing an indoor facility, assures the bride and groom that their wedding day will progress as devised, which engenders a soothing confidence that cancelling the most important event of their lives will not have to be an option.
Additional Wedding Resources
Read more about winter weddings in Lake Tahoe or visit our winter wedding locations found along the beautiful south shore of Tahoe, including Heavenly Ski Resort, the meadow where sleigh ride weddings take place, and the Heavenly gondola where a ride up the mountainside will bring you to the observation deck for a mountaintop ceremony.