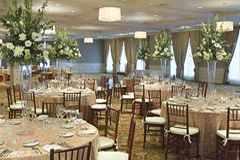 Many couples in the planning stages of their wedding seek out preeminent services and constituents for their special occasion, all the while keeping a watchful eye for the best prices. This is especially true when budget concerns play a role in the decision making process. If practicality and prudence are applied, most will find that it is not too difficult to obtain substantial savings within each of the numerous components that constitute your wedding day.
Receptions are a major expense, and a majority of the outlay accrues from meals for the guests. Rather than having a plated, fully served dinner, consider a buffet style meal. Food costs are cut significantly by employing this alternative, and you will benefit from additional savings in the reduction of needed food servers because a buffet line requires less staff to manage it in contrast to full service.
Spring and summer allow for outdoor receptions, which means you can host a simple, outdoor barbeque to feed your guests. You'll save a bundle here, and the ambiance emitted with this method might be more relaxing in comparison to a formal sit-down meal, perhaps allowing your guests to be a bit more unreserved. You may even draw some compliments for your originality.
Instead of opting for an open bar throughout the length of the reception, you may want to offer this luxury to your guests only for the cocktail hour, which generally ends just prior to dinner being served. Alternatively, you will save even more money if you eliminate the open bar altogether and make available a complementary bottle of wine for your guests, placing it on the tables for them to enjoy as they arrive at the reception.
Be certain not to have floral arrangements made for both the ceremony and reception. Flowers are expensive, so extend their lives by using the same arrangements made for the ceremony at the reception. Have a guest or relative transport them from the ceremony location to the reception facility once the formal photography is completed.
Photography is an item where quality is of utmost importance on your wedding day. However, hiring a high priced photographer does not necessarily mean you'll receive superior quality. A photographer who has not yet earned a name may surprisingly deliver a product of equivalent or better quality than a more seasoned, branded photographer. Just be sure to check your candidate's recent work, and if it passes your standards you'll enjoy a comfortable savings.
Hiring a live band for entertainment can cost in excess of $1,000. DJ's are trendy and can cut the price in half with no compromise to the night's events. DJ's can provide the same type and quality of music as a live band, from mellow background tunes during dinner to upbeat sounds for dancing.
If you want to save big bucks, eloping is not uncommon. Many brides and grooms find this idea attractive for various reasons, but saving money is at the top of the list. A few hours' drive up the coast to a romantic getaway for a simple wedding may help to avoid a large amount of expenditures.
Applying a few innovative ideas in the planning stages of your wedding can result in astonishingly super discounts, discounts which can be achieved easily and without compromising the quality of your day. Though this is certainly not an exhaustive list, just following a few of these cost-saving tips can surely preclude you from spending an excess amount of money in areas where it's unnecessary. Whether you're a couple in which money is no object or one with frugal minds, saving a few dollars by being practical is sound thinking.
Resources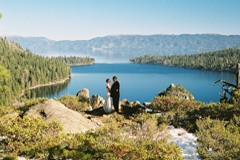 If looking for additional ways to save on your wedding day or want more ideas about affordable, simple weddings, see our website and look into what Lake Tahoe has to offer. Visiting the beautiful and varied wedding locations around the lake and examining what our inexpensive wedding packages provide might be the best money-saving wedding tip yet.