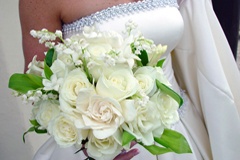 An adorning accessory and a component many brides and grooms consider as essential for their once in a lifetime event are wedding flowers. Floral displays are the picture-perfect addition to compliment every aspect of the ritual, beginning with their strategic placement at the ceremony venue to the embellishing of the banquet hall. Arrangements can be placed just about anywhere that is fitting, which includes the alter where the vow exchanges occur, alongside the aisle chairs, the reception tables as decorative centerpieces, on the wedding cake, and a host of other areas found proper. And, most importantly, floral arrangements should also be designed for those who will be playing a principal role at the affair.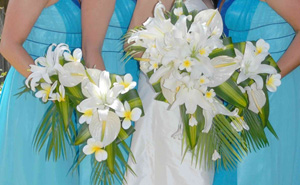 Who needs wedding flowers is a subjective decision in which no set rules apply and can be based upon whatever seems appropriate. Budget restraints, however, could be a factor and may play a significant part in the resolve of who is to be furnished with the garnishing because flowers can be quite an expense. Some of the likely prominent people you may want to consider embroidering and suggestions for their respective floral arrangements are:
Bouquet for the bride
Matching boutonniere for the groom
Bouquets for the bridesmaids (typically smaller than the bride's bouquet)
Boutonnieres for the groomsmen (matching the bridesmaids flower color)
Petals for the flower girl
Boutonniere for the ring bearer
Hair flowers for the bride and bridesmaids
Corsages for the mothers of the bride and groom
Boutonnieres for the fathers of the bride and groom
Corsages or boutonnieres for the grandparents
Throwaway bouquet for the bride
Flowers for stepparents
Flowers for special persons or friends that are not necessarily part of the wedding party
The above listed are more of the usual persons given consideration for beautifying with floral creations. But again, budget concerns may curtail distribution to all of those who you'd like to adorn, so the list is not a compelling one. Therefore, while wedding flowers are undoubtedly a desired extravagance, whatever is decided in determining who needs them, it is basically a personal judgment of the marriage aspirants based on what fits best with the wedding plans.
For more wedding tips and ideas or help with planning an upcoming wedding in Lake Tahoe, visit our website.